Disclaimer: Links on this site may lead to affiliate sources to help support this blog. We appreciate all purchases, but you are under no obligation. Not all linked products have been tested by the site owners. Read more in our
FAQ
and
Policies
.
I recently stumbled across an image on Pinterest that was almost enough to make me cry, and surely enough to make me angry. It was a perfect illustration of one of the major problems in our current society.
You can click on the thumbnail to go to the pin. It shows a tall, sickly thin female holding an issue of Vogue magazine, pinching at her midsection and looking into a mirror. What she sees in the mirror is an incredibly obese woman. Obviously, she's not seeing reality. They call this Body Dysmorphic Disorder, and I've talked about it many times. This image just brought it back up in my mind.
I know there are people (sick, rotten people) who would laugh at this image or at people who feel that way about themselves. Unfortunately, it's actually a real and serious problem. The image may be a bit more dramatic than what most girls and women really see, but it does depict the discrepancy between reality and perceived image that many females suffer from. Society is constantly telling us that we're not good enough, that natural is wrong, that we need to be different. It causes us to be unable to see reality.
My recent post on shoes even shows part of the problem. Everything is weird, freakish, unnatural, painful. Beauty is pain. Natural is ugly. You're not good enough. It's all such bullshit. Fashion and media are among the things that make it really hard for me to maintain my composure. I could so easily go off and rant and bitch and swear about it. I feel passionate about it.
I really want people to start understanding that society is making women hate themselves, making women feel ugly and unnatural and horrible. It's, well, fucked up to put it quite plainly. No one should look in the mirror and hate what they see. No one should feel like they're not good enough the way they are and that the only way to have self-esteem is to become something that less than 1% of the human population is actually intended to be.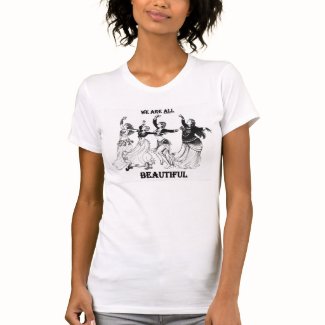 In my opinion, the vast majority of women who get surgery look worse after. I have seen so many celebrities before and after, and I'd say that at least to me, 98% of them look worse after. They also all look a lot more alike, because the surgeries wipe out a lot of their unique features. They all have the same breasts, the same lips, the same cheeks, the same mess of ugly pumped in and stitched up. and yet we promote that in society and encourage the idea of destroying yourself to be someone else.
I wish I could reach out into the world and give every woman total self-esteem. Hell, I'd include myself too, because even I still have issues. But really, I'd give just about anything to reach out and hug every girl and woman and tell her that she's beautiful as she is. Any actual imperfections she has she can fix naturally by eating right and taking care of her body. I'd want them all to feel loved and special and show them how to revel in being unique, being who they really are, and being beautiful inside and out. It's the truth, and everyone should know it.